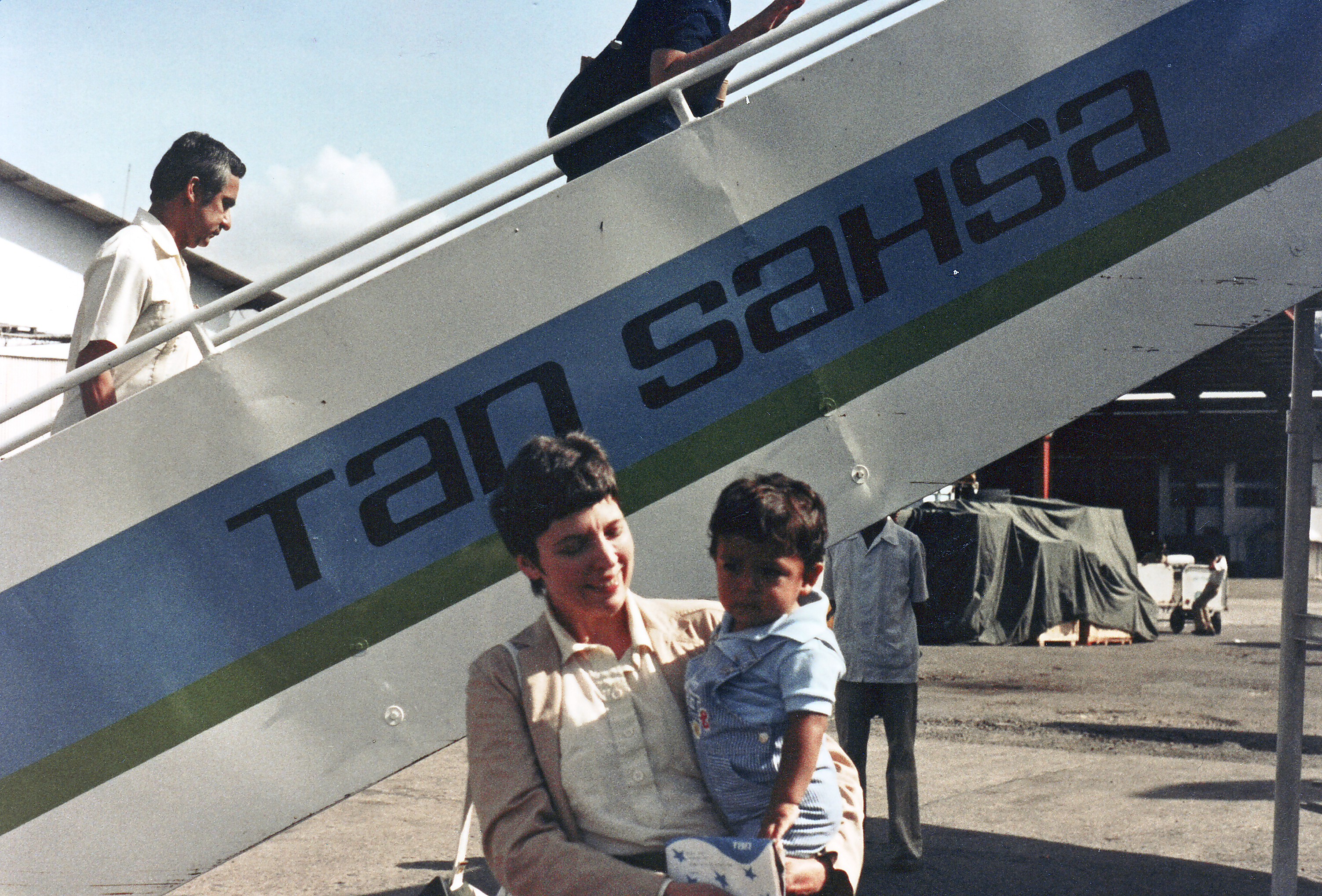 [EXCERPT]
The medical exam was perfunctory. We were just glad to have the required piece of paper. I recall an interminable wait the same afternoon at the U.S. Consulate. "When you get to Miami you'll submit this whole packet," the clerk said as he finally handed me a large envelope; it contained copies of all the documents concerning our adoption with translations into English. "They'll place a stamp in his passport and give him an alien registration number. Then when you get back to Boston you have to submit the form sent to you earlier." Now we just needed a flight out.
Thursday, June 23rd. Everything seems to be falling almost miraculously into place. In the morning we first stop by the travel agency, but they can't say whether we can get on the Tan-Sasha flight on Saturday morning. We need to be on that early flight because we have to allow extra time in Miami to take Nelson through immigration. After going with Magda to get a tire for her van (she needs three, but the inventory is so low they aren't allowed to sell her more than one), we go back to the travel agency around 1:30 p.m. They have been able to confirm us. It hardly seems possible; we'll be leaving exactly a month after our arrival! Thanks to Tom's persistence— calling Lissette nearly every day—our adoption may have set some records for speed.
We were out doing some shopping the next day, our last in Tegucigalpa, when a phone call came for us from Lissette—something about wanting to see Nelson before we left. I wondered why, since she had just seen him the day before. When Magda got home, the maid was able to explain the full gist of the message—it was the judge who wanted to see him one more time. Our hearts sank for a moment. Was there some last-minute snag? We called Lissette right away, but she said it was already too late; Judge Pineda had left her chambers for the day. "She is requiring that you send me a letter every six months with a progress report and pictures of Nelson that I can pass on to her." We promised to do so.
Carl and Magda took us to the airport the next morning. We are so anxious to go. Nelson seems to sense that something important is happening when he sees us load up all the suitcases. I packed most of his things last night while he was asleep. Our tearful good-byes to this family we have come to think of as our own is tempered by the fact that we know we'll see them again. Magda is bringing Gretchen to Boston in the fall. We've recommended a boarding school right down the street from where we live. While Gretchen gets settled, Magda can stay with us.
As we walk out on the tarmac to climb the stairs to our plane, Nelson looks in pure amazement at this huge version of a toy he has played with so avidly for days. His first words in English that summer were "car," "truck," "bus," and "plane," and to his first phrases, "my ball" and "more please," he soon added another: "Up we go!" His first flight was clearly a formative experience.
The plane was a real puddle jumper, stopping at La Ceiba and San Pedro Sula, as well as Belize, before heading for Miami. We have a last chance to glimpse the Honduran landscape. We're sorry we didn't get to see more of it from ground level. The mountains rise suddenly from the plain with its plantations along the coast at La Ceiba, and there is a dramatic landing as you descend steeply over the aquamarine waters of the Caribbean. Lots of scuba divers get on here. Nelson needs some room to wiggle around, and we are lucky to have an extra seat for most of the trip. He is gregarious, making friends with the lady behind him and the man in front with his ready smiles.
We breeze through customs, but have an excruciatingly long wait at immigration—an inefficient operation with just two officials on duty in a far-off, hot corner of the terminal. Most of the people in line have not been told they need photographs, so these have to be taken on the spot, slowing things down even more. Since Nelson already has his pictures, the official only needs to stamp a temporary visa in his Honduran passport after he looks at our packet of papers. It's official; he's got alien registration number A38-259-689. We have to walk nearly the length of the terminal back to our gate. I carry Nelson, who has gained several pounds in these four weeks, while Tom struggles with our two rather heavy carry-on bags.
We had called from Miami and were grateful to have a colleague of mine waiting for us at Logan Airport in Boston. Nelson was asleep in my arms by the time we got to the harbor tunnel. Our friend took a picture when we got to our little red house in Wellesley.19 It is one of my favorites from these days, one of the few with all three of us, and it captures the moment so well.
Tom, with his full dark beard, is wearing his Panama hat at a rakish angle. We're standing on the narrow front stoop. It must be early evening, because the porch light is on, casting a glow on the family grouping. The light in the entryway is also visible, as Tom has already opened the front door. His hand is still on the knob as he holds it open for me, but he has hesitated just a moment, grinning broadly as he turns to glance back at us. I'm standing a little to one side, holding Nelson tightly, supporting him with my left arm under his strong thighs, and my right around his back. His stubby, muscular legs in the gray sneakers with blue stripes— the ones Anita had given us—hang down like dead weights out of his blue and white shorts. He has on a light blue short-sleeved polo shirt, and his left arm is tucked securely under my right. His wavy chestnut brown hair looks a little disheveled, and he is obviously very tired, but he's not asleep. He manages to take in our arrival to what will be his new home, but his head is planted firmly on my right shoulder, just hiding my smile that must match Tom's. You can see it in my eyes.
We had arrived home with Nelson safely in our arms, but with many of our questions unanswered. Others we had not yet formulated or even imagined. In March 1984 we re-adopted him before the Probate and Family Court in Dedham, Massachusetts, an extra step recommended by our agency. When we anticipated some family travel to Europe and knew that Nelson's Honduran passport would soon run out, I filed an application in February 1986 to petition for his naturalization. (Tom was still a Canadian then.)
More than a year later, we got notice of the final hearing. He was to come—along with hundreds of other immigrants—to historic Fanueil Hall in Boston for a swearing-in ceremony. By some coincidence, the date—June 25, 1987—was exactly four years to the day after we had brought him into the country. At six, Nelson was old enough to appreciate some of what was happening. His brother, Derek, age two, looked on as Nelson held up his right hand to take the oath of citizenship and had his picture taken with the certificate.
Our curious fellow grew up uncertain of his birth name or date, yet confident that we cherished him. We tried to answer his questions about his birth parents whenever they came up, but there was not much to tell of which we could be sure. We emphasized that as far as we knew his parents had been killed, we thought perhaps violently, perhaps in a political incident. Nelson learned to live with the uncertainty about his past and never really plagued us with questions. He naturally wondered who he was and what his biological family was like. And, as he became an adolescent, that longing to know quietly deepened.
In fact, Tom and I underestimated how much he suffered from the anxiety of being different from the rest of his family, and of not knowing who he really was. Issues of identity loom large during the teen years, but if Nelson was conflicted because of the question of his origins, it was a subterranean struggle. We didn't talk much about it, as I recall, because the little we had to say had already been said. There were other, more immediate issues to deal with. Adolescence is always a challenge for parents and children, and we were no exception. Then, everything changed just as unexpectedly as the way he had come into our lives in the first place.